Women flock to Club Nuit, a high-class strip club and bordello for women, looking for a rousing good time. Yet Carlotta Wilkes, a long-neglected wife, finds something more: Ramon Montague, a gorgeous and sensual lover ready to romance and seduce her. Losing her battle with temptation, Carlotta succumbs to the mysterious seducer who will stop at nothing to fulfill her deepest desires.
The exotically handsome Ramon loves his work at Club Nuit, a club he co-founded with two other sexy hunks who thrive on women's sexual energies. When Ramon falls for Carlotta, his favorite customer, he fights to keep a secret that could threaten their love. It seems this gentleman of the evening is also a lord of the night. . .
Pay a visit to Club Nuit, where hot incubus vampires fulfill the deepest, darkest fantasies of everyday women. Ramon, Xavier and Rainyn rule the night with their otherworldly seductions; and in time, each 'gentleman of the evening' finds a special lady who earns his eternal love.

The gentlemen of the evening are coming for you. . .
Those hot Gentlemen of the Evening have found a new home--at Phaze Publishing!!! Under Cover of the Night: The First Book of Nuit is now available at Phaze.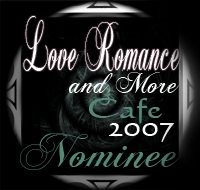 Under Cover of Night has been selected as an Honorable Mention winner for Best Vampire Book 2007 from the wonderful Love Romances and More Cafe.
Under Cover of Night was nominated in the Best Short Story (All Other Genres) Published in 2007 category in the Preditors & Editors Poll; this is a major industry website.
Under Cover of the Night was a nominee for Best Book of the Week at Whipped Cream Erotic Romance Reviews


Manda at Dark Angel Reviews had some beautiful words and a four Pixie rating for Under Cover of the Night. She wrote:
UNDER COVER OF THE NIGHT is a beautiful romance intertwined with sexy vampires – who could ask for more? The book delivers everything necessary for an entertaining romantic read: characters that are engaging and easy to connect with, steamy hot sex scenes, almost naked men dancing around seductively (Okay, not necessary, but definitely a bonus!), and a smooth plot with a satisfying climax. Megan Hussey delivers a great story that provides an avenue to display and manipulate the secret, hidden fantasy's of women around the world from light bondage to lovemaking in public and voyeurism. The paranormal aspect of the book lends itself perfectly to the feeling of sensuality and seduction that permeates the pages. Hussey, once again, proves that she can bring forth satisfying erotic romance.
Alternative-Read.Com had some wonderful words for Under Cover of Night. They said:
This is a fun vampire novel, nothing too serious, requiring fighting of any sort. Just lots of sex and lots of love. It is a fun short story.
ParaNormal Romance offered a great review of Under Cover of the Night. Ruth Schaller wrote:
Megan Hussey gives us an inside look at a male bordello. Where the men are of the night and look only to fulfill a woman's deepest, sexual desire. Her characters are full of life and not afraid of their sexuality.
Ms. Hussey's writing is sexy and provocative. Who wouldn't want to read this?
Brenna Lyons, a fantastic author in her own right, had some wonderful words for Under Cover of the Night:
UNDER COVER OF THE NIGHT was a fun book, an e-book from Phaze....I enjoyed her vampires...Her characters are likable and easy to follow through most of the choices they make. The snips of background (of the vampires and the club history) are delightful, and I hope to see more of this in future books....I highly enjoyed this book and hope there are more like it coming.
Yarro at Whipped Cream Erotic Romance Reviews wrote a beautiful review of Under Cover of the Night. She wrote:
From the taste of Ramon's kisses to the touch of his hands on Carlotta's body, author Megan Hussey paints such a vivid picture of her setting and characters that it's like walking into a lucid dream.
Under Cover of the Night is a short story that engages all of my senses. I only have to close my eyes to conjure up the tall dark Ramon, but once I have his image locked in my mind it's hard to not think about him all day. If I listen keenly, I think I can hear the sounds of women being satisfied at Club Nuit and the seductive whisper of Ramon's voice. I swear I can smell the plants and flowers in the garden that surrounds the Florida women's club.
Carlotta and Ramon are a perfect fit. When an author successfully establishes this chemistry between her characters it's like being taken on a carefree ride with an experienced driver: you sit back and let the journey unfold. With Ramon and Carlotta the journey moves from a platonic friendship with a strong undercurrent of lust to a public consummation that is so hot perspiration will bead on your skin.
Disappointment for me: there's no such Victorian-style club in my neighborhood that is staffed by vampires devoted to teasing, pleasing, seducing and entertaining women. This First Book of Nuit is Ramon's story, but I can hardly wait for the Second and Third Book featuring, Ramon's fellow vampires, the golden haired, Xavier and the green-eyed, red headed, Rainyn. Well done, Megan Hussey!
Bella at Fallen Angel Reviews gave Under Cover of the Night four angels and some beautiful words:
Under Cover of the Night is a story that takes the familiar strip club scene and gives it the paranormal spin of male strippers and female clientele: a perfect place to be for incubus, sexual energy vampires. At the beginning of this short story, Carlotta is almost meek, but as her courage grows, she becomes someone almost wild and empowered to seize her life, thoroughly impressing this reviewer. Ramon is seriously seductive and delicious, with a soft spot in his heart for this mortal woman, a trait that could melt even the most cynical of hearts. A brief read, but an entertaining respite from reality. 4 Angels.


Amazon.Com presents a beautiful 4-star reader review of Under Cover of the Night! Valarie Cotton wrote:
Carlotta is a 39 year old married woman, who is dissattified with her marriage and life. Her husband, Neil, doen't treat her well at all. Ramon is one of 3 owners of Club Nuit and Carlotta's friend. He has spent the last year getting to know her and secretly loveing her. When Carlotta finally leaves her no good husband, she runs straight to Ramon.

There is more to this story but it is a short read. The price is decent for such a short read. Makes you smile. As for me, I do wonder about the two other owners of Club Nuit. Can't wait to read them.